About Us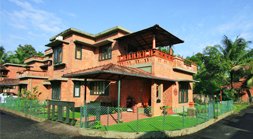 At Good Earth, we are engaged with bringing together like minded people with a common vision of building a sustainable future. Our belief is that such a community generates a strong sense of belonging while also enabling a collective sense of security and responsibility for nature. We foresee a future where many such communities keep growing, each germinating a new bio rich ecozone.
With every such project we undertake, we gain new insights and are better equipped to provide solutions. Certain concepts about the individual and the community have evolved over time. And so have our ideas. From our earliest projects, we have evolved into creating clusters of homes, retaining as much of the landscape, and providing flexibility in the design of each home, in order to personalise the space. Common infrastructure for maintaining and securing, with spaces for adequate interaction and entertainment is taken care of, making the community alive and vibrant, and ensuring the growth of a positive environment..

Good Earth
GoodEarth
7/337F, Mavelipuram Zone 2
Kakkanad P.O, Kochi - 682 030
Kerala, India.
Elements, our new proposed eco community near Edappally, is inspired by the elements of nature. We bring to our design the essence of these very elements to create homes that are most ideal for urban living. Coming up on a 1.05 acre green campus, Elements will have 50 homes with gardens in the sky in a Ground + 11 storied complex. With a building footprint of less than 30%, there are pleanty of open areas around. The low F.A.R and lesser share of common areas ensure you more undivided share and usable spaces for the money spent. The green complex will also have community sky courts, swimming pool, club house, gym and all ameneties needed for a fine, secured living. We welcome you to join the Good Earth Elements community.


Location
Located between emerging commercial center Edappally and the IT hub Kakkanad, Elements is coming up in one of the most preferred up-market residential suburb of Kochi. With excellent road connectivity to Seaport- Airport Road and NH 47, the place is easily accessible from any part of the city. All amenities like schools,shopping malls, hospitals, etc. are in close vicinity. Good Earth Elements is coming up on 105 cents of verdant land on a residential area flanked by premium educational institutions. The property is just 100m off the Edappally Toll - Pukkattupady Road that offer great connectivity between the NH 47 and Seaport- Airport road.





Justifications For Designing With Climate
Towards healthier buildings…

goodearthIn the most common definition, sustainability is referred to as "meeting the needs of the present without compromising the ability of future generations to meet their own needs," Sustainable development is that which raises the quality of life and serves the goal of achieving global equity in the distribution of the Earth's resource whilst conserving its natural capital and achieving significant and sustained reductions in all forms of pollution. The objectives of this approach are to "seek by design a low-energy, passive building and better occupant comfort."

Justifications For Designing With Climate
Climate is one of the endemic aspects of place over others and is adopted as a starting point for design. The most obvious justification must be the lowering of costs as a result of lowering the energy consumption in the operation of the building. This can be a big percentage of the overall life cycle energy costs of the building, since the bulk of its cost lies in operational phase. Significant savings in operational costs would justify incorporation of climatically –responsive design features despite....